Menu for Christmas Tea Party – 17 Twinkling Ideas That Will Delight Your Guests
Are you wondering what to serve at a Christmas Tea Party? Here are 17 enchanting sweet and savory Christmas afternoon tea menu items that will delight your high tea guests.
The beauty of these treats is that not only are they delicious, but they are simple to prepare.
Most importantly, you can have all the prep work done in advance and the table ready before your guests arrive so you can focus on joyful moments and memory-making.
You can fill a 2-tiered or 3-tiered cake stand with a mix of items or present each item on its own platter.
Combining two sweet and two savories will make for a magical Christmas afternoon tea spread. In other words, even though we have given you a list of seventeen ideas for a Christmas tea party, you can choose just three or four and put them together in a pretty display.
For example, you could choose to make cucumber tea sandwiches, scones, pistachio and raspberry pavlovas and chocolate mini cakes for a very traditional Menu for Christmas Tea Party. And you could add one of the more adventurous options like Latvian piragi or white chocolate matcha cookies to impress your guests. Whatever you choose, we are sure you will be delighted with these 17 delicious Christmas Tea Party menu items.
In addition, we recommend serving small portions, and using decorations such as mistletoe or holly leaves to create the scene – see our recommendations for decorations and drinks at the end of this article.
Christmas Tea Party Pistachio and Raspberry Mini Pavlova
When you are wondering what to serve at a Christmas Tea Party, this Pistachio and Raspberry Mini Pavlova Nests Recipe should be one of the first on your list.
The color combination of the pretty green pavlova and the raspberry pops of red is a joy. The natural wonder of this Christmas afternoon tea item is the exceptional flavor combination of the piney, earthy pistachio and the tart, floral raspberry. This recipe will give you a soft and squidgy pavlova in the middle with a lovely outer crust that will melt on the tongue.
Pavlovas are very versatile. You can also try our mini pavlova nests recipe variations:
Vanilla and Forest Fruits
Tropical Fruits and Passion Fruit
Chocolates in a Nest
Hazelnut and Nutella
You can keep this idea simple as per our recipes or complete your pavlova with sparkling edible decorations.
Make these mini pavlovas a day or two in advance and keep them in a sealed container.
Christmas Tea Party Ginger and Chocolate Mini Cakes
Chocolate and ginger are a classic heat, spice, and sweet partnership, and our menu for Christmas tea party wouldn't be complete without it.
This is the softest chocolate and ginger baby cake recipe; it's a keeper and will likely become a staple in your home and on your Christmas tea menu. And by all means, if you don't have any ginger handy, make this recipe without ginger as a simple chocolate cake.
Make these baby cakes days in advance and you can even freeze them for up to two months.
Phyllo Bites With Charred Red Pepper, Asparagus, and Mozzarella
The frill and fuss of phyllo pastry go hand in hand with a pretty Christmas tea party display. Really, this phyllo bite recipe is just so dainty and pretty.
Phyllo dough originated in 11th century Turkey and today can be found in supermarkets all over the world. It's delicate crispiness compliments the stronger flavors of the charred red pepper, asparagus and pepper.
You can choose to fill it with any combination you like, but we hope you try our red pepper, asparagus, and mozzarella combo.
Christmas Tea Party White Chocolate Coconut Truffles
The white chocolate coconut truffles' simplicity and the coconut shavings' ruffles will add such a light and lovely touch to your menu for Christmas tea party.
Legend has it that the French pastry Chef Louis Dufour invented chocolate truffles in 1895. The story goes that he ran out of ideas of what to sell to his customers, so the chocolate truffle was born! What is so lovely about this story is that Louis invented them at Christmas time, which is why we love the idea of adding this as a Christmas tea party menu idea.
Although cashew nuts are included in our White Chocolate Coconut Truffles recipe, you do not taste them at all. In fact, these taste very much like the Raffaello truffles you can buy in stores. But of course, these home made ones are much fresher and taste even better!
The color is a very, very light cream color. They are quite sweet, even with the cashews and unsweetened coconut flakes. So don't be fooled by the addition of the nuts. When you pop one in your mouth, it is not at all like eating a "protein ball". It's like eating a fancy chocolate!
The flavors all blend together to make a very delicate, lovely flavor that will impress your guests. Serve these little snowballs in a bowl or in frilly paper cups for your Christmas Tea Party!
Verrines with Cucumber, Carrot and Red Bell Peppers
What are verrines? They are a type of French glass that is similar in shape to a small parfait cup. They usually hold around 3-4 ounces and have a wide opening. This wide opening is perfect for filling with all sorts of goodies. And, because they are clear, your guests will be able to see all the tasty layers you've prepared.
You can find verrines (literally "small glasses" in French) in most home goods stores or you can just use clear small glass cups you have at home. They are becoming increasingly popular as an elegant way to serve hors d'oeuvres and dessert bites. Here are some ideas to get you started:
So, if you're looking for a unique way to impress your guests this Christmas season, add verrines to your menu for Christmas Tea Party!
Christmas Afternoon Tea Brie, Cranberry, and Rosemary Bites
One of the critical kitchen tools for tea time snack preparation is a mini muffin pan. This item can offer a myriad of tea menu ideas. In this list of easy ideas for your menu for Christmas afternoon tea, we used it four times!
This simple idea involves laying a square of puff pastry or phyllo dough into a greased mini muffin tray, filling it with a slice of brie cheese and cranberry jelly, and then baking it off at high heat. There really is nothing complicated about these tartlets, but if you would like more detailed instructions, here is a Brie, Cranberry and Rosemary in Phyllo Pastry recipe you might enjoy.
These little delights should be served warm; they can be reheated and garnished with a bit of rosemary or sprig. We love rosemary as a Christmas garnish because it resembles a pine tree leaf.
You can make these little bite the day before your Christmas Afternoon Tea Party and flash them in the oven before serving.
High Tea Sandwiches in Christmas Shapes
Little tea sandwiches are always popular and they are what many people first think of when they are wondering what to serve at a Christmas Tea party. They are definitely the quintessential tea menu item, and your Christmas tea party menu won't be the same without them.
Stars, trees and snowmen; whip your Christmas-shaped cookie cutters out of your cupboard and cut your little tea sandwiches in Christmas shapes!
If you don't have Christmas-shaped cookie cutters, another option is to cut them into rounds, as this looks just as elegant, and of course, you can always serve the traditional tea finger sandwich – simply cut off the crusts and cut the sandwich to approximately two fingers in width.
Here are a few ideas on fillings:
Cheese and ham in a layer with good quality mustard or fresh figs or fig jam.
Egg mayonnaise with some daintily sliced spring onion or chives.
Cut rounds of tomato, mozzarella, and a little pesto
Smoked salmon with cream cheese and chives or dill
Cucumber and cream cheese are always a popular and traditional combo.
The trick to making this look good is using a sharp cutter and thin white sliced bread. Try to get all the elements with the same cutter for perfect little layered sandwiches.
You can make most fillings the day before and then actually assemble the pre-cut sandwich on the day to avoid the risk of having a soggy sandwich.
You should count on 3-4 sandwiches per guest, depending on the size.
Bruschetta With Red, White, and Green Toppings
Bruschetta is a traditional Italian snack. Prepare the little toasts by toasting a slice of baguette or ciabatta, rubbed with olive oil, garlic, and seasoned.
Once cooled (these store beautifully in a sealed container), you can top them with sliced meats, cheese, pesto or our Christmas favorite – red onion, tomato, fresh basil and a slight drizzle of balsamic vinegar.
Be sure to start well by cutting bite-size toasts. Please keep this item elegant so it can be popped into the mouth. Although you may be tempted, try not to cram too many toppings and risk a guest landing with a glazed balsamic tomato on their Christmas tea outfit!
Christmas Latvian Piragi with Bacon and Onion
If you're looking for something a little different to put on your menu for Christmas tea party this year, why not try Latvian piragi? These savory pastries are filled with bacon and onions, and they make a delightful addition to your Afternoon Tea Party table.
When eaten warm, the dough is fluffy and light, while the filling is savory and satisfying. The contrast of flavors and textures makes for a truly delicious experience. I have made these many, many times and everyone loves them.
The taste and color of the piragi are sure to impress your guests, and they're easy to prepare in advance. You can freeze a whole bunch and then just warm them up as needed.
They are so easy to serve as well – just place in a pretty bowl or place on a platter. Try this Latvian Piragi recipe – Your guests will love these unique eastern European pastries!
Christmas Tea Party Cranberry and Hazelnut Cookies
Take your favorite American-style chocolate chip cookie recipe and give it a Christmas twist. American-style cookies are soft and deeply comforting, as opposed to the more European-style biscuit, which is short or crisp.
Use your favorite chocolate chip cookie recipe and add the following (not necessarily all together): chopped candy cane, nuts, ginger, dried apple, cinnamon, or white chocolate chips.
Our favorite is cranberry and hazelnut. Just take out the chocolate chips and replace with dried cranberries and chopped hazelnuts.
You can make these cookies 3 or 4 days ahead of time.
Tortilla Wraplettes With Smoked Turkey Mayo or Ham
These little wraps will look very pretty on your Christmas Tea table.
Just fill a wrap (if you can find a spinach wrap, the green color will add to the scene) with smoked or plain turkey mayonnaise and some chopped green herbs, cranberries, nuts, sliced spring onion, and other salad elements.
A little cream cheese mixed in with the mayonnaise will help this filling to set and be sliced easily. Roll the wrap tightly, refrigerate (a day in advance is fine) and cut it into elegant pinwheels for your Christmas tea party menu.
One-bite Pikelets sprinkled with Cinnamon Sugar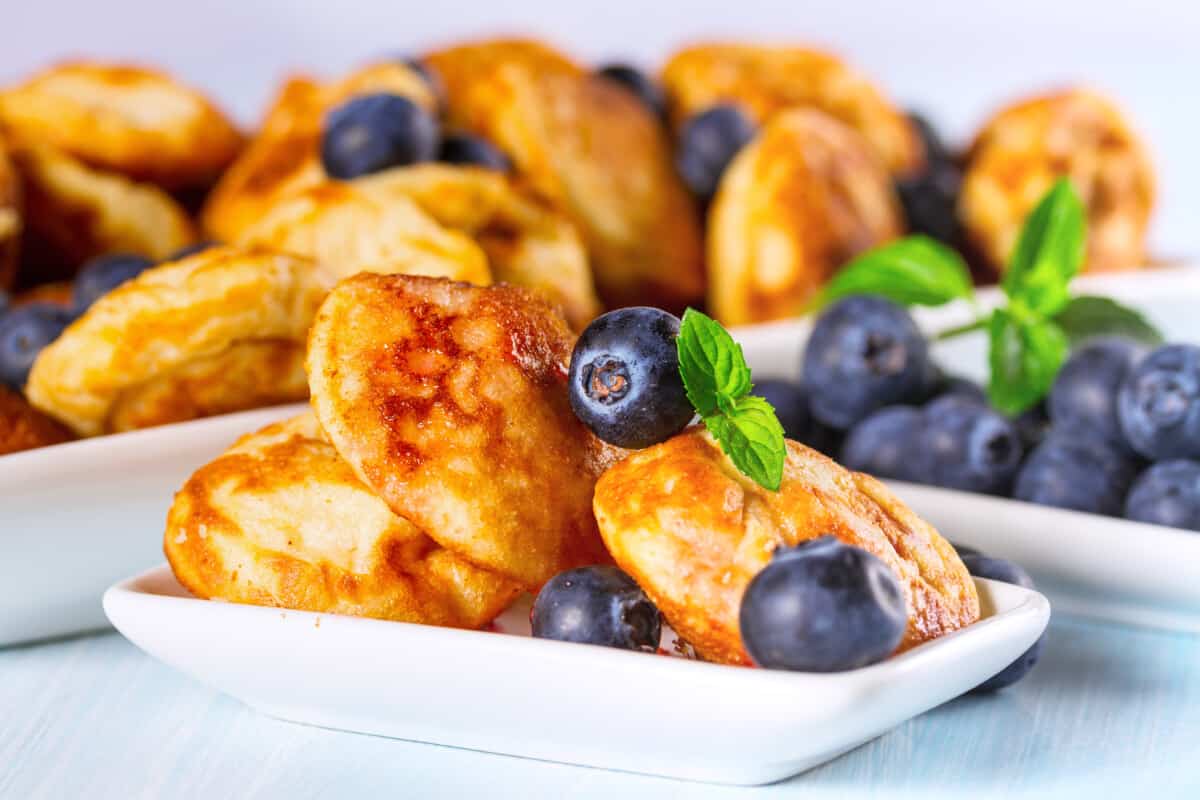 Use an American-style pancake recipe (crumpet, flapjack and pikelet recipes are fine, too) and fry off mini pancakes. Sprinkle them with cinnamon sugar or brush them with warmed maple syrup and top them with a blueberries and sprinkle with cinnamon sugar.
If you feel you need to skewer this little treat to keep it all together, go for it! You can make all the fillings the day before and assemble the sandwiches right before serving. Sprinkle these with a little edible gold glitter for that Christmas glow.
Christmas Afternoon Tea Cupcakes With Eggnog Icing
Bake this lovely little vanilla cupcakes recipe. Then flavor your favorite icing or glaze with the well-loved eggnog flavors of cinnamon, nutmeg, and vanilla. Keep these tiny tea-time treats fresh looking by dusting them with your spices and powdered sugar right before serving. A little edible snowflake and edible glitter will take it to the next level.
You can make the cupcakes and even freeze them ahead of time. It is best to put your frosting on the day you serve them.
Scones with Strawberries and Cream or Pears and Hazelnuts
What would a menu for Christmas Tea Party be without a scone?
Make traditional scones and top with strawberry jam, real strawberries and cream.
Or try this Pear and Hazelnut Christmas scone:
Add a little grated pear to your scone mix and a handful of chopped and toasted hazelnuts for a seasonal twist. We love the idea of serving this scone with a hit of vanilla, cinnamon whipped cream, and a side of your favorite jam or jelly.
Another option is to flavor a bit of softened butter with cinnamon and vanilla. Then spread that onto the warmed scones.
Make these in the morning and warm them slightly before serving to take the chill off.
Christmas Tea Madeleines dipped in Chocolate
Madeleines are one of the easiest Afternoon Tea desserts to make. These small, light cakes have a distinctive shell-like shape and are a classic French dessert. They are simply perfect for your Christmas Tea Party.
Madeleines are traditionally made with lemon, orange blossom, or vanilla flavoring. Often they are dipped in white, milk or dark chocolate.
Simply melt your chocolate in a double boiler, being careful not to burn the chocolate. Then dip your madeleine in the chocolate. Sprinkle with nuts, coconut, frieze dried raspberries or sprinkles and let cool on a piece of baking paper. And voilà! they will be set and ready for your table in 30 minutes.
Christmas Afternoon Tea Chocolate Covered Strawberries
These chocolate covered strawberries are soooo easy to make and they look and taste fantastic. They make a stunning addition to your menu for Christmas tea party.
Simply wash and dry your strawberries thoroughly. It is very important to dry them on a towel and then let them air dry a bit longer so that they are completely dry.
Then melt your favorite chocolate over a double boiler. Dip your strawberry in the chocolate and place on a piece of wax paper to firm up.
Make sure you do not overheat the chocolate. And do not let water get into the chocolate as it will clot up and start looking like coffee granules! It's easier if you just melt a bit of chocolate at a time and work in small batches.
Dip them in nuts, sprinkles or coconut for a snow effect. To be honest though, I prefer them simply dipped in dark chocolate. Serve them in little frilly Christmas candy paper cups.
You can make these the day before. Cover with some wrap and keep in the fridge until the guests arrive.
White Chocolate Matcha Cookies
The lovely green and white colors are a great addition to your Christmas Tea Party table. The delicately sweet, slightly earthy flavor of the matcha pairs perfectly with the sweetness of the white chocolate, creating a taste that is simply irresistible.
What could be more festive than a tray of beautifully decorated white chocolate matcha cookies?
Try our White Chocolate Matcha Cookie recipe – so easy and delicious!
Strawberry Cheesecake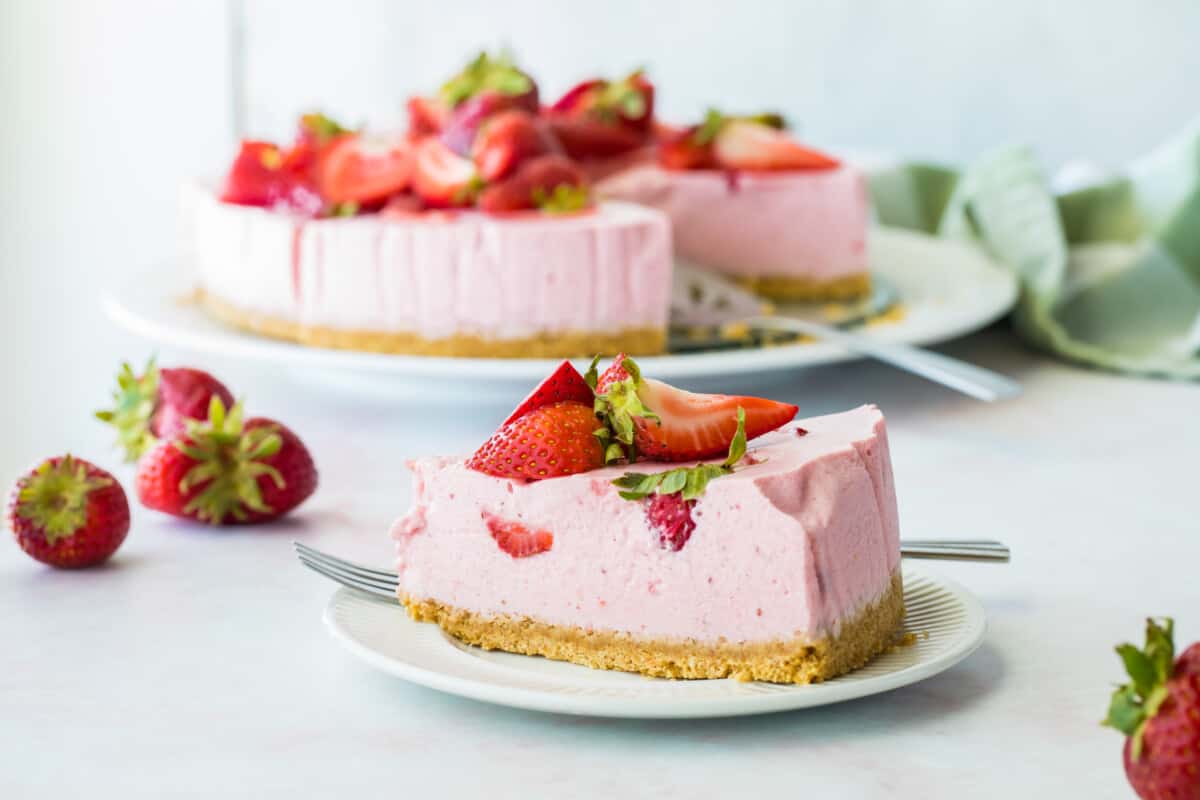 This strawberry cheese cake is light and delicious and the strawberries will look gorgeous on your Christmas Tea Party table.
And because it is so easy to make ahead of time, you will have more time to spend with your guests.
Here is the best recipe for strawberry cheesecake. It is not overly sugary. Instead, it lets the natural sweetness of the strawberries take center stage in a light and airy no bake cheesecake.
You can also make individual little strawberry cheesecakes. Just be sure to line your muffin tins with baking paper to prevent them from sticking.
Christmas Tea Party Mince Pies
Mince pies are a delicious, festive treat that are perfect for your menu for Christmas tea party. These little pies are packed full of Christmas flavors.
You can buy them ready made at the supermarket or make your own. This Christmas mince pie recipe by Jamie Oliver is brilliant. Either way, these traditional Christmas Tea Party pies will be appreciated by your guests.
What drinks to serve at a Christmas Tea Party?
For a traditional tea party, you might want to serve black teas, green teas, and/or white teas. I suggest Earl Grey and English Breakfast and then a nice green tea. In addition, you could serve herbal teas, such as chamomile, peppermint, or ginger tea. If you're looking for something festive, you might want to try this beautiful Downton Abbey Christmas tea.
Or you can make your own Christmas tea!
Brewing Christmas Tea is easy! Start with a strong black tea like Assam or English Breakfast, and add a mix of spices that make you think of the holidays. Some favorites include cinnamon, ginger, nutmeg, and cloves. You can either steep the spices with the tea leaves, or add them to the brewed tea after straining.
For a festive presentation, pour your brewed Christmas Tea into a teapot and serve it with some fresh cranberries or orange slices. Enjoy!
Likewise, hot chocolate and cider are also popular drinks for holiday gatherings. Of course, Champagne is always very nice.
And if you're looking for a non-alcoholic option, there are plenty of delicious winter drinks to choose from. Cranberry juice and spiced apple cider are all delicious choices!
How to set up your Christmas Tea Party Table
When setting up the table, think about making it feel like a winter wonderland. Use a white tablecloth as your base. Then add in some festive touches like cardinal red napkins and Christmas candles.
Centerpieces are also key—a beautiful poinsettia plant or an arrangement of holly sprigs would be perfect. Or you can purchase some good quality artificial flowers and greenery to decorate your table. A dusting of powdered sugar will set the scene, and whole cinnamon sticks and mini pine cones are easy to find and add to your Christmas high tea display. You can even buy some star glitter for your table.
Use ribbons, little tea lights, and fairy lights as twirling décor between your Christmas high tea treats. We suggest choosing two or three colors and sourcing décor elements within that scheme to give you a consistent look.
Finally, playing some holiday music in the background will help set the mood and get everyone into the spirit of celebrating!
When Should You Host Your Christmas Tea Party?
Timing is everything when hosting a tea party. First of all, you'll want to give your guests plenty of notice so that they can clear their schedules. Send out invitations at least two weeks in advance. Then, for the actual day of the party, afternoon teas are typically served between 2:00 and 4:00 pm. 3pm is perfect. This gives guests enough time to have lunch beforehand and leaves plenty of time for dinner afterwards.
What To Wear To A Christmas Tea Party?
For ladies attending the tea party, dress code is semi-formal or business casual. Think about wearing a pretty holiday dress or skirt suit combo. And don't forget about accessories! Gloves and a pearl necklace would be perfect finishing touches.
As for gentlemen attending, jackets are optional but encouraged. A button-down shirt with slacks or khakis would be appropriate.
Generally, if you're hosting the party, you'll want to dress slightly nicer than your guests since you'll be acting as the hostess with the mostest! Finding the right outfit is half the fun—after all, this is an excuse to break out that special occasion dress you've been dying to wear all year long! Just make sure it's seasonally appropriate (think rich jewel tones and velvet fabrics) and you'll be good to go.
What to bring to a Christmas Tea Party
It is always polite to ask the host or hostess what you could bring along. They might appreciate the gesture and really, it is always the polite thing to do to bring a little something along whenever you are invited to a special occasion.
You could bring a small bouquet of flowers, a bottle of wine, a small box of chocolates or a little Christmas ornament.
After the tea party, make sure you call to thank the host or hostess for the party.
Christmas Afternoon Tea at Harrods
Many people are curious about Christmas Afternoon Tea at Harrods. Here is a fun video showing you what it looks like and what they serve at a Christmas Tea party. Check out the tea sandwiches cut out in different shapes!
Wrapping up (excuse the pun)
We hope this list of ideas brings you joy and assists you when you are wondering what to serve at a Christmas Tea Party.
Choose any of these items and you will have a lovely menu for Christmas Tea Party that will help you to celebrate the holidays with friends and family. And by following these tips, you'll be sure to impress your guests and have a wonderful time yourself!
Merry Christmas!